.
Biografía – María García Estrada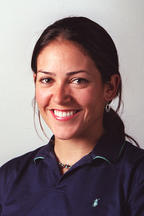 María was born on January 13th, 1981 in Santa Cruz de Tenerife. From an early age her life was linked to golf, sport in which she attained considerable success in the 1990s. She was particularly proud of attending the European Girls Team Championship in Frankfurt in 1997. She used to say that she had never been so excited; winning for her country was something really special. Her team-mates agree that it was an emotional occasion and recall how María's four consecutive birdies in the last four holes secured a win in the final game against Germany. María's courage, skills and self-confidence gave Spain the victory in the Championship and revealed her as one of the biggest up-and-coming talents of Spanish golf.
In December 1991 she was granted a scholarship to attend the David Leadbetter Golf Academy in Bradenton, Florida, USA. After a first 6-month period at the academy, her scholarship was renewed for another two courses. Although María had landed in America with only 15 years of age, she accumulated achievement after achievement, both in academia and sports. Some highlights of this stage of her life include her graduation in 1999 as valedictorian and winning top place in individual and team state championships. As a perfect finale to her school years, she was nominated by her schoolmates as Queen of the Prom.
Her impressive record would grant her access to Duke University in North Carolina and a scholarship to study Political Sciences and play in the university golf team. During her college years María proved to be a top player, being chosen Rookie of the Year at her university and participating in ACC and NCAA competitions.
In February 2003 she was informed that the prestigious stock trading firm Marquette & Partners was recruiting at her University and that she fit the profile they were looking for: a good team worker, able to work under pressure; able to win and lose and make a fresh start everyday, etc. After successfully completing her first interview with the firm, she was invited to the Chicago headquarters for a second interview. The happy news that she was being offered the job with the firm arrived after graduating. Although accepting this position would mean sacrificing her professional career as a golfer, she was aware that she could also go far if she did well in the company. Her job started in August in Chicago with an initial training period. Later, in May 2004, she moved to London, UK, to take on her definite position.
London, being half way between the USA and the Canary Islands, was like a second home for María. In London she developed new relationships and enjoyed the possibility of spending the weekends with her family and friends. Since she had no holidays, she had to make the most of her first summer by using weekends to travel: she visited Tenerife in various occasions with her workmates, visited Sardinia, enjoyed the Beer Festival in Munich, travelled to Rome with co-workers from Chicago and flew to Sweden to be the maid of honor at the wedding of her room mate and golf team co-member, Kristina Tucker. In December she went back home for Christmas, knowing that the following year she would have to stay in Chicago for the Christmas company party. She planned to spend next New Year's Eve in Rio de Janeiro, Brazil.
Immersed in her brand new life in which everything seemed so perfect, she was happy. But cancer is an unpredictable visitor.
On March 1st, 2005, María came face to face with her illness for the first time. Showing the same degree of courage and resilience she showed as a golf player, she fought tirelessly against a condition that eventually proved to be stronger than she. Physicians from all over the world analysed samples of the tumour affecting María in search of a solution to her illness, but to no avail. Science was not able to provide an answer to her disease.
Six months of painstaking fighting and three high-risk surgical operations could not erase her contagious smile or undermine her fortitude. Many times she was the one to console her friends. During her pilgrimage through London hospitals she was visited by friends from all over the world: Germany, Brazil, USA, Spain, France, Sweden. None of them hesitated in travelling to see her friend and offer their support in her fight against the illness. Many of her visitors remarked the sense of humour and tenderness that María distilled all the time, to the point of convincing everyone around her that they should be strong… As strong as she was.
María passed away during the night of September 3rd, 2005. It was the second day for her American friends' visiting Guía de Isora, Tenerife, her most beloved island, her home. She died among her dearest folk and with the peace of mind of having returned home, but without an answer to her questions, "What is this condition? How can we cure it?" During her six-month struggle with the disease, nobody had been able to provide an answer to these two questions.
The María García Estrada Foundation was created with the purpose of answering these questions. María herself encouraged family and friends to support research so that nobody else would have to ask themselves those very same questions. This is our aim.