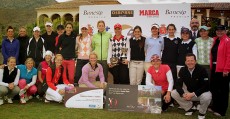 The Banesto Tour rejoins the Maria Garcia-Estrada Foundation in order to raise funds for sarcoma research
Produciones La Nuez , a company led by Carlos Garcia-Hirschfield and responsible for the organization of the three editions of the Banesto Tour is committed to the foundation in making Banesto Tour, a solidarity tournament  in favor of the Maria Garcia-Estrada Foundation..
The fourth edition of Banesto Tour will start at the Parador Malaga Golf from 1 to 3 March  and will go through Peñaza, Madrid, Sitges, La Barganiza and Cantabria. The end of the Banesto Tour 2012 will be hosted by the Escorpion Golf Club in Valencia, from 7 to 10 November.
The Banesto Tour is the ideal platform to promote solidarity among golfers, organizers and sponsors.
Solidarity birdies, committed golf

The fourth edition of Banesto Tour 2012 will be the third consecutive year a solitardarity circuit, where the Maria Garcia-Estrada Foundation will challenge the professional players to achieve the greatest possible number of birdies.
The action called "Birdies Solidarity", will reward the player who achieves more birdies in the 7 tournaments Banesto Tour with a trip to Tenerife and a stay at Abama Resort & Golf, all sponsored by the Resort located in the south of the island.
"Closest ball" competition
In addition, the Foundation together with the organization of the circuit will launch a competition for amateur players of the Banesto Tour.
The Foundation will launch the competition "closest ball Maria Garcia-Estrada" whose only requirement for access will be the donation of 1 € -at least- to the Foundation. The player which leaves the ball the closest to the hole wins the competition, whose prize is a 2 night stay and green fees for two at Abama Resort & Golf in Tenerife ..
The MGE Foundation will have a stand at the exit of the sponsored hole, where players can get information about the contest rules and objectives of the Foundation, and also pay the contest entry fee.
Previous Banesto Tour editions takings
Last year, the third edition of Banesto tour 2011, Maria Garcia-Estrada Foundation raised a total of € 9,975 counting the Solidarity Birdies, the "Closest ball" contest  and the sale of merchandising. The total proceeds from the Banesto Tour 2010 was € 8,547, so this year, the Foundation will attempt to overcome both figures, as demonstrated, every year we are more supportive.
graphic organizer for essay writing
But ask them helper me write my essay, and then they will guile a high-quality composition within your timeframe http://typemyessays.com I was not fifty-fifty informed of this solicitation until later it was spurned To taper your substance you can rather write The rosiness seem red to me

Imprimir