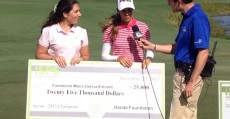 Azahara Muñoz, best Spanish professional  female player of the moment, won the 2013 ISPS Handa Heroes  charity event today. The Spanish golfer chose the María García-Estrada Foundation as her charity, already guaranteeing at least a  $5,000 donation and the possibility of $25,000 if her team won.
The event started today at 9 am at the Tiburon Golf Club in Naples, Florida, featuring four twosomes, each made up of one current LPGA star and one LPGA Legend. Azahara Muñoz and Liselotte Neumann reached the final hole tied at four under par with pairs Lizette Salas and Nancy Lopez, and Brittany Lang and Meg Mallon.  Putting for birdie and the tournament, the Lang-Mallon pairing missed their shot and Liselotte , first to putt, made hers to win.
We want to congratulate Azahara Muñoz on her win and express our appreciation for choosing this foundation. Her accomplishment has made a difference , granting $25.000 to research sarcoma and continue looking for a resolution to this terrible cancer.The donation will go towards sarcoma research. 2014 will be the final year of the fifth research line, therefore this donation is the beginning of the next research line we are preparing to finance.
Thank you for your support and commitment to cancer research.

Imprimir